Even pre corona, living in a huge city like Delhi had its ups and downs. As a freelancer, I anyway spent a lot of me-time working from home on my laptop but I always wondered what if I could do the same job, living in the comforts of a small town, with lesser hassles and a more affordable lifestyle?
The pandemic has been particularly overwhelming to India's bigger cities, as the virus has found fertile ground in the solidity that is otherwise valued. With ever-escalating rents, changes in the labor market have pushed the country's youngest adults to suburbs and smaller cities, far from the cosmopolitan craze and directly in the lap of nature. I feel like this global crisis stretched the fabric in my head which was already on the verge of tearing. If ever there was a moment in my life where living in a metropolitan was becoming tiresome, it was this.
Finding A New Home: 
After looking for many properties to shift to in this unknown, uncertain time of COVID 19, I came across Relocatte, a relocation company with a full-fledged network of furnished apartments. Since I was clear that I don't want to move to a big city but still want to be around it, I instantly made DLF Primus, my happy abode.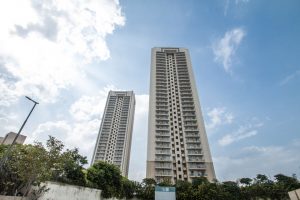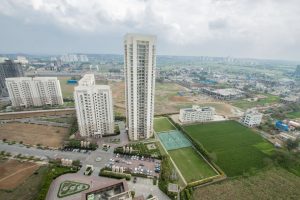 It's tailor ready for those who are looking for the option of long stays away from the hustle and bustle of these ambiguous times. Located strategically, this property is a delight for anyone looking for a quiet life surrounded by the lush green areas, which also makes it a perfect place for self-quarantining. I am happy to be safe and healthy; staying away from the constant risk of catching the virus even while performing basic daily duties. 
Why is being away from the city life better, you may be wondering? Because this particular township is made of a small knit community. People are there for each other, to support each other, to help each other out, while absolutely adhering to the safety norms. Honestly, life here moves at a much slower pace, meaning that I don't have to worry as much about the spread of the virus and the anxiety which comes along with it. In spite of not being the mainland, the property is very well connected to Gurgaon. Also, everything is just a click or a call away. All my essentials and necessities are delivered at my doorstep. It's as hasslefree as I can possibly hope for.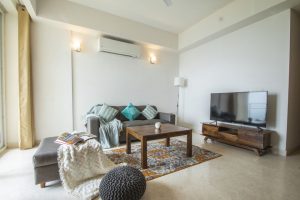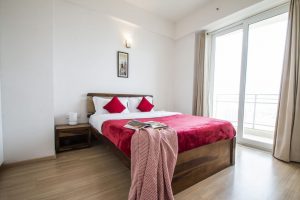 Why Did I Choose Relocatte?
Relocatte makes moving to a new city a cakewalk. They specialize in providing flexible apartment rental services in Gurgaon. Basically, all you need to do is book home of your choice, show up and start living. So, as of now, I'm in no hurry to move back, and I'm more than willing to stay put in my luxurious 3BHK with amenities to take care of all my needs. As I sit comfortably on my living room sofa, writing from home, and binge-watching everything available online, I can't thank Relocatte enough for helping me find this awe-inspiring roof above my head. Stay safe, but remember to stay at least six feet away!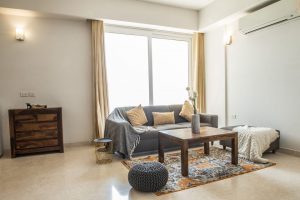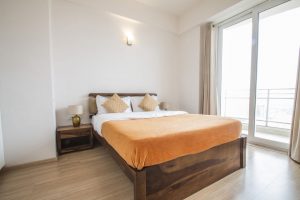 If you're looking for apartments around Gurgaon, Manesar, and Neemrana, your search will end here